The Board
The International Association for the Fantastic in the Arts
Members of the Executive Board include nine officers: President, First Vice-President, Second Vice-President, Treasurer, Public Information Officer, Conference Chair, Immediate Past President, Registration and Membership Coordinator, and Student Caucus Representative.
Other positions are are appointed by the President with the advice and consent of the other Board members. You can find Other IAFA Officials here and the Conference Division Heads here. To view a list of the perks these positions receive, click here.
---
President
Dale Knickerbocker
East Carolina University, Greenville, NC, USA
Dale Knickerbocker is Linda E. McMahon Distinguished Chair of Foreign Languages and Literatures at East Carolina University, where he teaches Hispanic literatures and cultures and is director of graduate studies. He is the author of Juan José Millás: The Obsessive-Compulsive Aesthetic, editor of Lingua Cósmica: Science Fiction from around the World, and author of Spain is different? Historical memory, modernity, and the "Two Spains" in turn-of the millennium Spanish apocalyptic novels. He is an associate Editor of the Journal of the Fantastic in the Arts and Alambique: Revista Académica de Fantasía y Ciencia Ficción, and is on the editorial boards of Brumal: Revista de investigación sobre lo fantástico, Extrapolation, and Abusões (2014-present), and of the Routledge book series Studies on Global Genre Fiction.
---
First Vice-President
Valorie Ebert
Broward College, Coconut Creek, FL, USA
Valorie Ebert is a Ph.D. candidate in the Comparative Studies program at Florida Atlantic University and is currently an Assistant Professor of English at Broward College. Her research focuses on the many intersections contained in science fiction and fantasy literature, and how, through interpellation, the ideas contained within these works may influence a reinforcement of less than ideal ideas instead of working to negate them.
---
Second Vice-President
David. M. Higgins
Inver Hills College, Minnesota, USA

David M. Higgins is the Speculative Fiction Editor for the Los Angeles Review of Books. He teaches English as Inver Hills College in Minnesota, and his research examines imperial fantasies in postwar American culture. His article "Toward a Cosmopolitan Science Fiction" won the 2012 SFRA Pioneer Award for excellence in scholarship. He has published in journals such as American Literature, Science Fiction Studies, Paradoxa, and Extrapolation, and his work has appeared in edited volumes such as The Cambridge Companion to American Science Fiction.
He also is also the Treasurer for the Science Fiction Research Association (SFRA).
---
Treasurer
William Clemente
Peru State College, Peru, Nebraska, USA
Dr. Bill Clemente has served as Treasurer for the IAFA for over a decade and in 2018 received the Collins Award in recognition of his service to the organization.
Bill is presently Emeritus Professor of English at Peru State from which he retired in 2018 after twenty-five years of teaching a variety of courses, including, among numerous others, Children's Literature, SF Film and Literature, and Young Adult Fiction. His most recent publications have focused on Zombies in Literature and Film, a course he developed five years ago on this topic.
Bill is an avid bird watcher and photographer. He has served for years as ICFA's unofficial official photographer—many of his pictures appear each year in Locus Magazine. Since his retirement, he has taken up a long dormant hobby, fly fishing.
---
Public Information Officer
Skye Cervone
Florida Atlantic University, Boca Raton, Florida, USA
Skye Cervone has a M.A. in Science Fiction and Fantasy Literature and is currently a Ph.D. candidate in Comparative Studies at Florida Atlantic University. Her primary areas of concentration are Science Fiction Literature and Literary Theory, and her current research focuses on capitalism's relationship to animals in SF. Her other research interests include Lord Dunsany's Fantasy novels and the use of language in world building. Skye's work has appeared in Animalia: An Anthrozoology Journal, Science Fiction Film and Television, The New York Review of Science Fiction, and Critical Essays on Lord Dunsany.
She has previously served the IAFA as the Student Caucus Representative.
---
Immediate Past President
Sherryl Vint
University of California, Riverside, California, USA
Sherryl Vint is Professor and Director of the Science Fiction and Technoculture Studies program at the University of California, Riverside. She is an editor of the journals Science Fiction Studies and Science Fiction Film and Television. Her most recent publications are the collections Science Fiction and Cultural Theory: A Reader and a special issue of Paradoxa on The Futures Industry <http://paradoxa.com/volumes/27>.
A long time member of IAFA, she has previously served as First Vice President and Science Fiction Division Head.
---
Membership & Registration Coordinator
Karen Hellekson
Independent Scholar, Maine, USA
Karen Hellekson is an independent scholar and founding co-editor of
Transformative Works and Cultures
(http://journal.transformativeworks.org/). Most recently she co-edited
The Fan Fiction Studies Reader (2014).
She studied science fiction with James Gunn at the University of Kansas, where she earned
her PhD in 1998, and is a longtime attendee of ICFA. She is employed
in the publishing industry and lives in Maine.
---
Student Caucus Representative
Wendy Wood
University of Houston, Houston, Texas, USA
Wendy Wood is a PhD Candidate in literature at the University of Houston, specializing in the long nineteenth century, and is currently working on her dissertation. She is interested in the emergence of the science fiction genre in the Victorian period, specifically looking at the shift from a religious worldview to a more scientific and rational worldview and how this shift sets the stage for the genre. She explores how some of the major authors of the time incorporate this background into their works and how these early stories set the standards for the modern SF genre.
---
Interim Conference Director
Jeri Zulli
Fashion Institute of Technology, New York, USA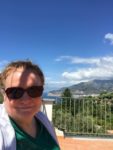 Jeri Zulli is an adjunct associate professor of English at the Fashion Institute of Technology in New York, part of the State University of New York system, where she teaches Science Fiction and Gothic/Horror courses as well as classes in Women's Studies. She has won two teaching awards, most recently the SUNY Chancellor's Award for Excellence in Adjunct Teaching in 2016. She was the inaugural chair of the IAFA Student Caucus, founded in 1999, and has been an active member of IAFA for 25 years. Jeri is a freelance editor and proofreader, and is a dictatorial grammarian.
---